Badminton Collectibles
Did you know that:
British publications in the 1870's routinely showed badminton scenes to poke fun at parliamentary or legal actions.
A badminton player appeared on the cover of Sports Illustrated in the 1950's.
Parker Brothers manufactured a boxed badminton/battledore set in the 1890's.
Badminton has spawned several shuttlecock related games including Petecada (Brazil) and Iniaca (Germany, Brazil and Japan).
Badminton was a popular Hollywood sport in the 1930's; with tickets for the World Badminton Championships in 1935 (between Jack Purcell (Canada) and Jess Willard (America)) costing $3.30 at the Ambassador Auditorium.
There are over 77 different badminton related stamps from 21 different countries.
That Badminton rackets and shuttlecocks have come in a variety of different sizes and shapes over the years.
???
---
To see some wonderful badminton/battledore paraphernalia visit the Racket Heritage Museum.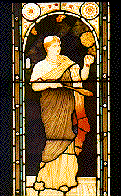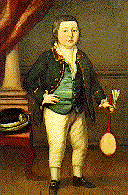 ---
If you are surfing through a badminton web page, you must be a die-hard badminton enthusiast. While most of us love to play the game, others also enjoy collecting badminton related collectibles. We might have been influenced by our first wood shafted racket or an old tube of shuttlecocks.

Whatever your area of interest, we would like to hear from you regarding the formation of a trading/collecting group. Anyone interested in rackets, shuttlecocks, games, prints, books, stamps, programs, photos, paintings, autographs, and related items are encouraged to e-mail or call the group facilitator. It is anticipated that a future chat-line, trading-line and related sites can be formed by those interested individuals, especially individuals from outside the United States.

Anyone interested in getting involved can contact Gil Fried at gfried@charger.newhaven.edu . Please specify several means which can be used to reach you and your collecting interests.
---
Contributed by Gil Fried. Last Revision: 02JAN2002