To:

Member Associations

From:

Vanessa Freeman

Director of Events

Fax:

Phone:

E-mail:

+44 1242 221030

+44 1242 234904

vanessaf@intbadfed.org

Copy:

Continental Confederations

IBF Council

Badminton Players Federation

Date:

29 November 2001

Pages:

10
Dear All,
5x7 experiment – some views so far and the average match lengths
Now that players and officials have had a few months experimenting using 5x7, I felt it would be a good time to hear what people have to say. During the Dutch and Danish Opens and the recent Thomas & Uber Cup in Cuba, I gathered some feedback and thoughts about the experiment so far.
The views are not a scientifically selected sample and are clearly not worldwide, but they give a good spread of nationalities and I hope that you will find it interesting reading. I also apologise if I have misquoted anyone in any way.
We continue to receive questionnaires from tournaments and if you have any points you wish to raise, and you haven't done so already, I would ask you to complete the questionnaire that is attached.
I am also attaching information that has been gathered on the average match lengths from the World Grand Prix tournaments that have experimented with 5x7 so far this year.
We will from time to time continue to send you information on how the experiment is going and will produce a full report before the AGM in May 2002 so that our Members can take as informed a decision as possible.
Kind regards

Director of Events
---
Comments are written in no particular order, just the order in which they were taken at each event.
Tim He – Hong Kong coach
The coach's life is much busier

Hong Kong players like it

A player can have a longer career playing badminton to 5x7

Men's and mixed doubles too fast with two serves, prefer to see 5x9

Ladies' doubles should stick to 5x7
Kwan Yoke Meng – Malaysian coach
Believes it takes away the skill of the game, but understands that the target audience we want to attract aren't necessarily interested in the skill of the game

Thinks that players can have longer careers with 5x7

Would prefer 5x9

Playing to 15 is too long

Men's doubles to 7 is too short

Spectators find 5x7 much more exciting

Juniors are doing very well with the 5x7

No future in badminton if something doesn't change
Dan Travers – Scottish coach
5x7 is great for spectators

keep same score as it is simple

people who are against changing to 5x7 are the ones that have been brought up with the culture of 15 and feel threatened because of the change.

After a few years they will be fine

one sided matches are over quickly which is another benefit of the system

TV have more chances for adverts so they can sell more and importantly more replays

Scoring system to 15 was only exciting when it got to 12-all

Players who don't like the system are not able to cope with getting onto the court ready to attack and focus
Steen Pedersen – Denmark coach
5x7 is good to promote the game

it is attacking and explosive

wiser for the Danes to prefer 3x15 as it suits their style of play more, but for the good of the game he thinks 5x7 is the way forward

likes the length of the doubles to 7

much more exciting
Gopichand – India player
5x7 tougher on players

spectators in favour of 5x7 as it is more exciting for them to watch

Members and clubs don't like it, but they don't generally like change

IBF should deliver what the spectators want and not what the players want.

Spectators and sponsors are the most important for the sport
Andreij Pohar – Slovenia player
Likes singles

Mixed is harder for women.

A woman's serve is 50% more important than the man serving and it is the girls that win most of the points.
Maja Pohar – Slovenia player
Jesper Larsen – Denmark player
MD & MS should play to 9

LS/LD/XD should play to 7

The duration for matches that can potentially sell the sport and bring in more income should be longer

Dangerous to go back to 15 as it didn't work before
Ray Stevens – England coach
Changes the game, faster, attacking and more positive

Doubles having 2 serves is a problem

Need to change to whatever it takes to get the game on TV

Kills the long term planning of the game and that is why people who like to mentally break their opponent down don't like it

Have to focus all the time

As the experiment continues you are seeing the players are starting to find more of a balance
Heryanto Arbi – Indonesia player
Singles is better to 7

Ladies' doubles should keep to 7

Men's and mixed doubles should play to 9

Likes it

To go back to playing to 15 points is boring
Asger Madsen – Germany Coach/Team Manager
· If need to attract new audience then to 7 points is more exciting
· Should not have setting as it makes it complicated. It is even more exciting without setting
· Too short in doubles
· Prioritise the events to what you can market
Keith Hawthorne – Referee
Bao Tong – China Team Manager
During the China Open felt that the spectators did not like 5x7 as much as 3x15

Media also preferred 3x15
Jan Jorgensen – Denmark Coach
Likes 5x7

Thinks that anything that can be done to generate renewed interest in the game is a must

Thinks that 5x7 is more appealing and exciting from a spectator's point of view
Finn Traerup-Hansen – England TeamManager
Thinks it is important that the IBF focus on whether or not 5x7 meets the original objectives set out for the experiment before it makes any long-term proposals
Peter Gade – Denmark player
The more I see it, the more I think that it is good for badminton. It's good for the media, the audience, it makes badminton quicker, more exciting. Of course, there can be some adjustments, like going to 8 or 9 points. Also, the ladies event could be going to a best of three games instead of 5 games. But I still believe that it is the way to go. If we go back to the old system, it would really be a shame
Gunther Huber - Canada

Coach
· Playing to 7 in singles is good, especially for ladies singles and the women in the Canadian team agree
· This system of course brings about many changes for the coaches as they have to approach it properly and players have to change their attitude because it introduces a game of "speed consistency" and risk management
· Would like to see further experimentation in doubles either to 9 points or one serve because at the moment you have a big advantage with 2 serves in the doubles
· The receiver is under more pressure
· Feels to change back to 3x15 would be a step backwards because it proved not to be attractive in certain events such as women's doubles
· The nature of sports are changing and we need to change to attract young people and new spectator audiences, we can only do this by giving them an attractive package and the scoring system is key to that package
· 5x7 should be the high-performance scoring system used for the elite players, but at the national level they could still play to 3x15 if they want to. It is similar to formula one; people love to watch it on TV, but they don't drive round in a formula one car!
· For me this change is an exciting new step in coaching and a new challenge to train players how to think differently
· My players like 5x7: it has moved up a level/gear of intensity, physical, mental and emotional demands,
Roy Paul - Jamaica player
· Likes it, but thinks it is a little too short
· Would prefer to play to 9 points
· 90 seconds between each match is too long, would prefer 40 or 60 seconds
Ryan Holder - Barbados player
· 5x7 has raised the intensity of the game making it a lot more exciting
· Barbados players have been playing to 9 points anyway so it is less of a transition for us
· You can play more games in a day which is an advantage
Joy Kitzmiller - USA Team Manager and player
· Likes the fact that the ladies singles plays to the same points as the other events
· Gives lesser teams a chance to win as anything can happen
· Also likes 3x9 points
Shannon Hsu - USA player
· Likes it as it is far more intense
· Prefers 5x7 to 3x15 especially in the ladies doubles
Federico Valdez - Panamerican Badminton Confederation President
· Felt that we had to change from 3x15, but is not yet sure if 5x7 is the right solution
· Likes the singles, but is concerned that the doubles is perhaps too short
Marina Perez - Ladies National Coach Cuba
· Likes 5x7 as it is more dynamic and faster which makes it more interesting to watch
· Players need to be focused, but the players like it very much
Kevin Han – USA player
Zhou You – Italy player/coach
Likes 5x7 as it makes the game far more exciting
Diana Koleva – Bulgaria coach
Most important is the marketing – what is best for marketing the game as everything depends on this and money.

If there is no money then you can't motivate coaches and they in turn can't motivate players.

We need ambitious coaches which will filter down to the players

Need a scoring system that is easy to understand for spectators and a scoring system that every mistake is important.

In this case maybe a type of rally points system is attractive.

IBF and the officials and players must not be afraid to change, we have to change

Doubles is a bit too short, but don't go back to 3x15

Ladies' singles should perhaps have longer breaks than 90 seconds as recently there was a ladies' singles that went on for one hour and 45 mins which was a long time for the players

Would like to see IBF experiment with rally point so that every point is a potential winner.
Average Match Lengths
We have taken the data from the round of the last 16 onwards in each of the World Grand Prix tournaments since the experiment started and the average match lengths follow. What is quite interesting is that we are starting to see a steady increase, which may imply that players are starting to feel more comfortable with the 5x7 scoring: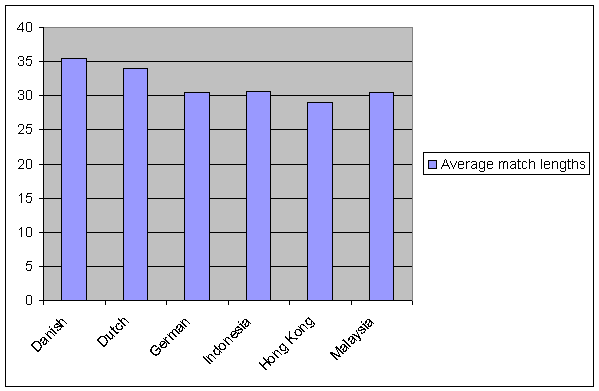 The graph below shows the average match lengths of each event from the round of the last 16 onwards at the World Grand Prix events since the start of the experiment: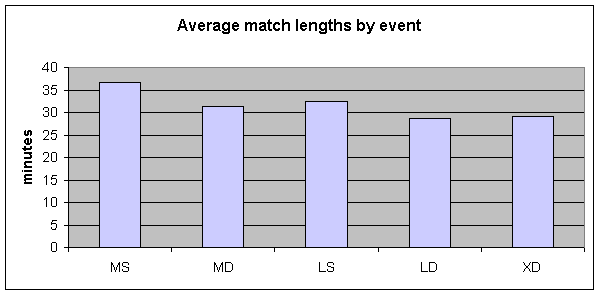 Although the comments we have received suggest that a majority of people think that the doubles is too short, the above average shows that it is in fact the third longest event. Men's singles being the longest, followed by ladies' singles, men's doubles, mixed doubles and finally ladies' doubles.
Breakdowns of averages at the World Grand Prix events since the experiment started: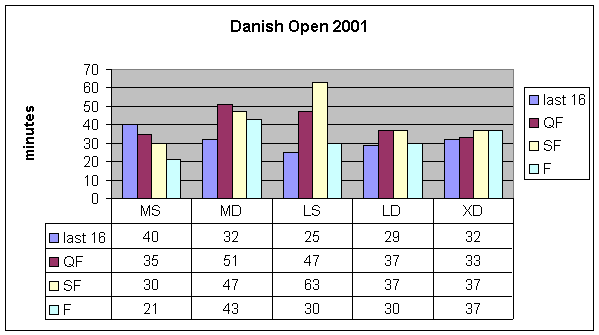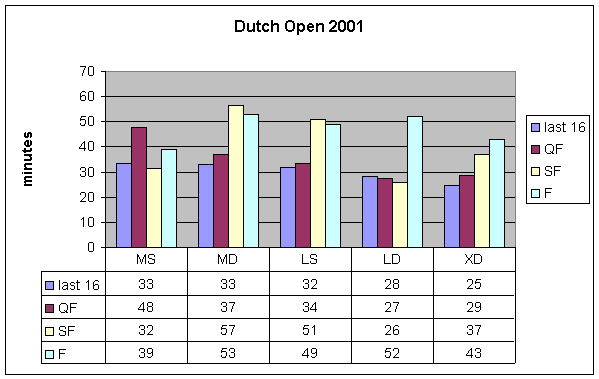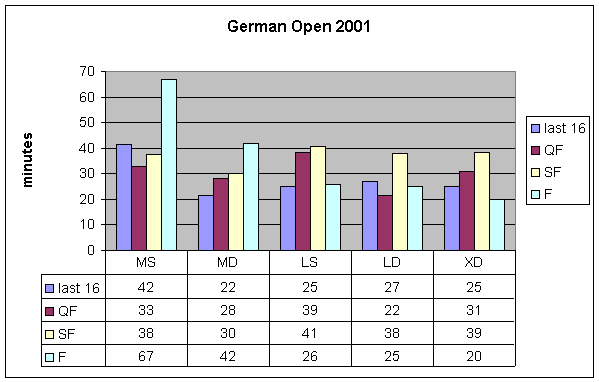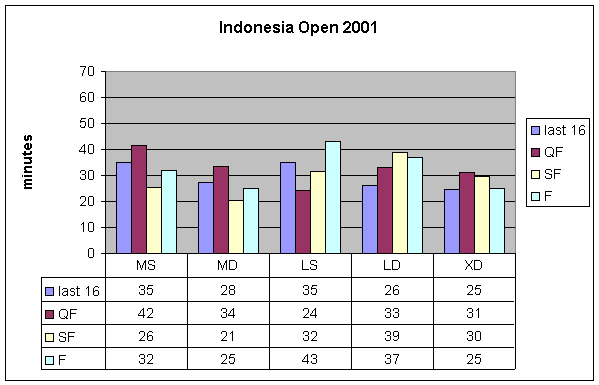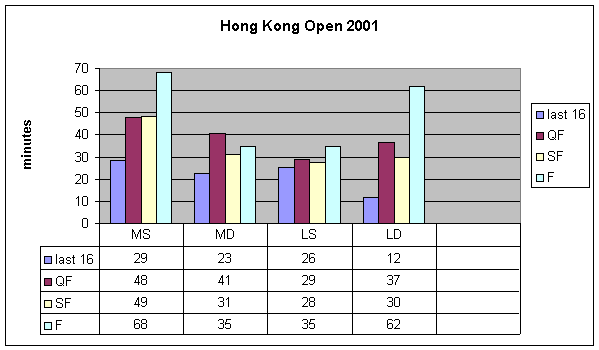 Note: Mixed doubles data was not available at the time of producing the graph