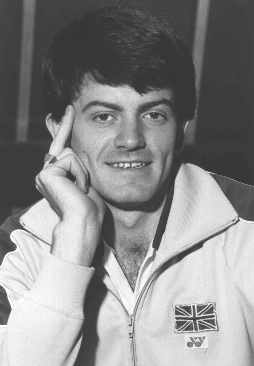 Martin Dew-Hattens
BADMINTON MAILING LIST
A world-wide mailing list for badminton players has been established as badminton-l@pegasus.ping.dk.
---
To USE the list
To send a message to the many folks across the world who subscribe to the list, you first have to subscribe to the mailing list. When you have been subscribed, you merely address your note to badminton-l@pegasus.ping.dk Then your note will be automatically forwarded to the list subcribers.
Please note that this list is for strictly non-commercial usage. Any messages containing advertisements or otherwise related to commercial purposes will be deleted and their senders will be removed from the mailing list. This is a free service provided for use of badminton players. Please do not abuse it.
---
To SUBSCRIBE to the list
You can subscribe to the mailing list by sending the message:
SUBSCRIBE badminton-l
to the address: UUDP@pegasus.ping.dk
from your mail account. After subscribing you will then receive all messages sent to the list.
---
To UNSUBSCRIBE to the list
You can unsubscribe fron the ailing list by sending a message with body:
UNSUBSCRIBE badminton-l
to the address: UUDP@pegasus.ping.dk
---
Other Admin Details
Concerning the mailing list should be sent to: badminton-request@pegasus.ping.dk
Please do not abuse the list's owner by sending any requests that are not directly related to the mailing list.
---
THE HISTORY OF THE "BADMINTON" MAILING LIST

Martin Dew-Hattens is the founder of this list and writes:

I played badminton 101 times for England during the 80's. When I stopped I 
was irritated that I could not get results from the major events around the 
world. Living in England at that time was not the best of places to get 
coverage of badminton. 

I had access to the internet and inparticularly USENET and rec.sport.misc. 
I wanted to find other people interested in Badminton and placed a message 
in that group. I got about 8 responses and since I was the internet 
administrator at MCDonnell Information Systems (MDIS) at that time, within 
a day I had a mailing list constructed called "badminton@mdis.com".

The list slowly grew and upon leaving MDIS it stood at about 60. The list is now 
by Bo Holst-Christensen the brother of Jon Holst-Christensen (current Danish 
international) and can be reached by mailing to

	badmnton@login.dknet.dk

My original idea was to be able to gain information about events around the world 
from local people who have the interest, and that national organisations could use 
the medium to reduce the vast amounts of paper that fly around the globe. It seems 
however that much of the administration of badminton is done by older (possibly retired) 
people who either have no interest in computing or who have no access to a computer.

It is inevitable that national badminton organisations will begin to use the information 
superhighway at some stage in the future but their reluctance to invest in technology to 
reduce paper and time still stagers me ! 

It now seems to me that alt.sport.badminton and a WEB server have their place BUT 
that the one common factor in MOST peoples lan connections is e-mail. That is, most 
people have e-mail but not all can read news or telnet directly to a WEB server. I 
believe therefore that a mailing list for badminton has a valid place as the 
"catch-all".

Up until now I pleased with the mailing list. It is unmoderated but there has been no 
cases of misuse or unpleasantness. I see regular results from major events and have 
used it with success as a tool for gaining information. The future success of this list 
depends on the members and to the degree that they give it support. If it withers and a WEB 
server is all that is left then many people will be left out since they cannot gain access 
to WEB servers in general. 

The moto must be "use it or loose it".

Martin Dew-Hattens 
SAS Data A/S 
Engvej 155 
Copenhagen S 
Denmark 
Phone: (+45) 32-325057 
Fax: (+45) 32-322356 
E-mail: martin.dew-hattens@sas.se 


---
As of March 21. 1996 the mailing list has been moved to another server, and posting has been restricted to subscribers only. The new address is badminton-l@pegasus.ping.dk.
---
The information here is presented as-is and I take no responsibility for errors or omissions. Please contact me with your comments and I will make all possible efforts to incorporate them into this presentation.
---
For further information about this Home Page contact:

Stan Bischof stan@worldbadminton.com