Montgomery Badminton 2021
Montgomery High School, home of the Vikings, fields a badminton team that competes locally (NBL) and regionally (NCS).
Last match of the season MAY 13 at Elsie Allen - team dinner Friday May 14
---
Our School
1250 Hahman Drive, Santa Rosa, CA 95405
tel: 707-890-3830
fax: 707-890-3833
URL: https://mhs-santarosa-ca.schoolloop.com/
coaches: Mary Lehman, Stan Bischof, Antonio Molteni
Our Team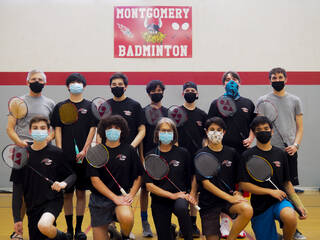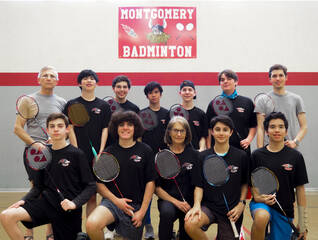 Team Pictures (also available in unedited TIFF format: masks, no masks)
Back Row (L-R): Stan Bischof (coach) Andrew Huynh, Dominic Molteni, Kai Wolfard, Drew Morgan, Ty Silva, Antonio Molteni (coach)
Front Row (L-R): Chase Corcoran, Sami Nacouzi, Mary Lehman (coach), Amit Kumthekar, Cameron Wolfard
Not Pictured: Alex Calmer
---
Matches and Team Events
Pre-Season
Athletes need to get cleared before the season starts.
No pre-season events this year
Regular Season
Tuesday, April 6 - first day of practice
In-Season Matches
Home matches start at 4:30. Away matches nominally start at 4:00PM so you will be leaving class early.
Post-Season
Fun, Games, Food, Misc.
Team Pictures - ??
Team Dinners

Friday May 14 after practice

News
Opponents' Schedules
For local schools see League Schedule
Previous Years
---
Page maintained by Stan Bischof, Montgomery High Badminton Coach. Last updated: 15 May 2021 06:08.