Wine Country Games 2018
Singles
Carolyn Bischof ran the tournament and handed out medals. This is Carolyn addressing our Mens Singles players (L-R Marvin Richardson, Randy Hong, Stan Hales, and Michael Katten.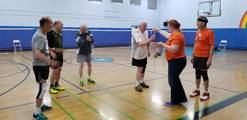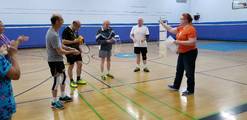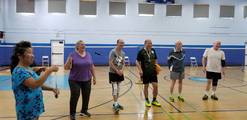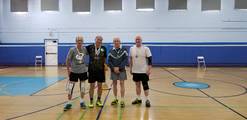 Adding in the ladies (L-R Marlene Meuleners, Laurie Savage, and Choi Richardson) here is the Singles field.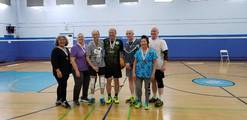 Doubles
Everyone competed in Doubles or Mixed Doubles this year this year. Our doubles players below are (L-R) Stephen Seager, Randy Hong, Stan Hales, Chris Elliot, Marvin Richardson, Stan Bischof, Michael Katten, Scott Ding, Laurie Savage, Jackie Joe, Marlene Meuleners, and Leah Qui.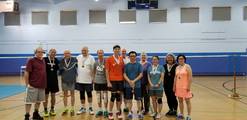 Mixed Doubles
Pictured L-R are Laurie Savage, Stan Bischof, Marlene Meuleners, Michael Katten, Chris Elliot, Jackie Joe, Marvin Richardson, Choi Richardson, Ed Wong, Amy Wong, Leah Qui, Scott Ding.
People



---
Page maintained by Stan Bischof. Last update: 12 Jun 2018 16:16