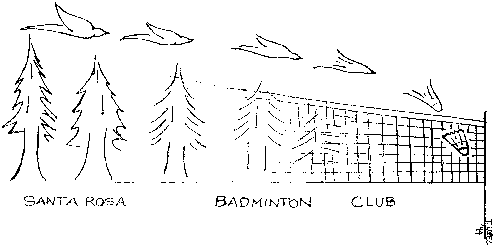 SANTA ROSA BADMINTON CLUB
SRBC serves the extended Santa Rosa area and represents the only regular play in the North Bay, so includes Marin and Lake County players also. Santa Rosa is in Sonoma County in California and is about an hour's drive north of San Francisco. Players of all abilities are welcome.
SRBC Policies

Training

What's New

If you would like to be notified by email of any changes to the playing schedule, please send a note to Stan Bischof ( stan@worldbadminton.com ) requesting to be added to the SRBC mailing list. Add cell number and carrier name if you want text notification.
--- 2023 Christmas Potluck ---
Saturday December 9


---

WINTER HOURS: due to basketball Tuesday and Wednesday sessions start at 9 instead of 8
We offer play at various standards from beginning/recreational to "A" flight. Due to limited court space most play is doubles/mixed but there are also times reserved for singles. Like many/most clubs we need more ladies! Shuttles and stringing are available. Players supply their own shuttles and both synthetic and feather shuttles are welcome though most players use feathers.
INSTRUCTION is also available (beginning group, intermediate group, and individual) and we have a growing and enthusiastic junior contingent.
---
Events
Boys and Girls Club Opening - Sep 2013
History
---
Page maintained by Stan Bischof (stan@worldbadminton.com). Last update: 27 November 2023 14:15